Inventa has developed its own proprietary chemical plant reaction technology called the Inventa JetReactor Technology. It is widely accepted as a modern technology for the manufacturing of important raw materials and intermediates for the detergent, cosmetic, pharmaceutical, oleochemical or agrochemical industries in the world. The Inventa JetReactor Technology has many applications in the chemical industry and can play a vital role in expanding its operations in Asia, Latin America and Eastern Europe.
Inventa has proprietary know how and the methodology to develop and optimize chemical processes for gas/liquid and liquid/liquid reactions from conceptional stage to industrial scale based on its Inventa JetReactor Technology. INVENTA's know how and methodology is preferably applied for mass-transfer limited reactions as the Inventa JetReactor technology provides superior mass transfer to other conventional reactors, such as stirred reactors (STR) or reaction columns.
High-Performance Reactor
Inventa JetReactor offers an innovative approach to chemical reaction technology. The high performance reactor is designed to provide excellent gas-liquid mixing which results in high throughput and high product quality. Attractive process economics, ease of scale-up, flexibility in operating parameters, flexible batch size, consistent product quality and improved process safety are key factors which made world leading chemical companies select Inventa JetReactor Technology.
Inventa JetReactor consists of a reaction autoclave, a JetReactor Circulation Pump, a JetReactor Heat Exchanger and a venturi type Ejector. This system thus requires the same number of elements as a stirred vessel system, but is arranged in a completely different way.
The reaction vessel of InventaJetReactor does not need baffles and is normally built with a larger length/diameter ratio than the stirred vessel and is thus lower in cost, especially for high- pressure reactions.
The external JetReactor Heat Exchanger (instead of coils or internal exchangers) can be built as large as needed and is not limited by the reactor's working volume. The full JetReactor Heat Exchanger area is available for accurate temperature control even if the reactor is operated with reduced working volumes.
The JetReactor Circulation Pump (instead of an agitator) allows high power input per m3 working volume in those cases where high mass transfer rates have to be achieved. The maximum power input of stirred vessels is often a limiting factor, especially for large reactors. New pump designs are now available with mechanical seals that can be operated at pressures of up to 100 bar g. An unique impeller and a special hydrodynamic pump house profile allow pumping of liquid with a high solid content and high gas loads, without the aid of an inducer and thus avoiding abrasion problems where heterogeneous catalysts are used.
The down flow Jet Ejector (instead of a sparger or other gas distribution system) is a high performance gassing tool. The ability to finely disperse very small gas bubbles to the liquid with a gas-liquid ratio between 0.5 and 2.0 creates high mass transfer rates and makes this an ideal tool for gas-liquid reactions.
Operating Principle
The reaction mixture in the Inventa JetReactor is circulated by the external JetReactor Circulation Pump through the external JetReactor Heat Exchanger and the Jet Mixer.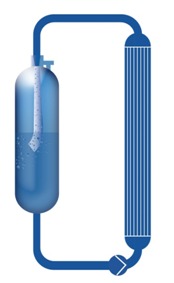 The Jet Mixer is a proprietary self priming venturi nozzle, promoting a twisting downward jet. Within the Jet Mixer, mass transfer rates far superior than any other conventional stirred reactor are achieved (i.e. 5 to 10 times better). The reaction kinetics may be adapted to specific reaction requirements, as it is possible to operate the Inventa JetReactor under high gas distribution throughout the entire reactor or under low gas distribution such that the reaction is entirely concentrated within the Jet Mixer. This flexibility in mass transfer rates allows a range of reaction selectivity and productivity to be achieved.
Comparison with other Reactor Systems
Mass Transfer
The mass transfer rates of Stirred Tank Reactors and JetRectors are described in several scientific publications. Depending on the reaction kinetics of specific chemical reactions, reaction times can be shortened up to 5 times.
This leads to smaller and more economic reactors for specific applications.
Typically INVENTA tests new reactions and investigates if a higher energy input (better agitation/mixing) leads to faster reactions. Reactions where a higher energy input results in better product quality with shorter reaction times are selected as potential candidates. These are the reactions which we define with a good potential for the JetReactor at an early stage of an investigation.
Scale-Up

Scale-Up of Stirred Tank Reactor
Various publications cover the subject of scale-up stirred tank reactors from laboratory to industrial scale reactors.
In summary, it can be concluded that the design of a turbine-stirred reactor is complex problem. The scale-up of stirred reactors has to go through various size/stages to allow the transfer of data generated in laboratories/pilot plants to industrial scale. Most of the time the specific power input, yields, reaction times, and product qualities vary from experiments in the laboratory/pilot plant to industrial scale. Typically the performance is better in small units. This posts a challenge to R&D departments or engineering departments of chemical production companies.
Scale-Up of JetReactors
The JetReactor the power input is generated by the JetReactor Circulation Pump. The circulating liquid is forced through a ejector nozzle (JetMixer) where the liquid is accelerated into a jet, which due to its momentum entrains reaction gas into the mixing tube. In the mixing tube, gas and liquid and catalyst are intensively mixed in the mixing shock zone, where the gas is finely dispersed as very small bubbles. As the resulting gas/liquid stream leaves the ejector and enters the JetReactor Vessel, a secondary dispersion of bubbles is obtained in the bulk fluid.
Due to the operating principle and construction arrangement, the JetReactor exhibits numerous favourable features regarding their process application as well as design and scale-up. As described in detail in many publications, the JetReactor allows a simpler scale-up approach and show better mass-transfer performance than stirred reactors.